Details

Published on Monday, 08 September 2014 14:41
The election of trainer Tim Keefe as only the third President in Maryland Thoroughbred Horsemen's Association history, coupled with the election of seven new members to the MTHA's Board of Directors appears to signal a new, more inclusive direction for MTHA leadership. After being elected President, Keefe was excited about the organization's future.
"I think the new Board is very energetic," he said. "Everyone is looking forward to adding their own input and is anxious to get started."
The Sept. 4 meeting - at which Officers were elected - was the first since the Board of Directors was chosen in an election which saw unprecedented voting with over 25 percent of the MTHA membership casting a ballot.
Joining Keefe on the Officers roster is founding member Linda Gaudet and R. Larry Johnson as Vice Presidents, as well as Michael Horning as Treasurer.
The Officer positions aren't ceremonial. Each will oversee most of the functions of the Association. Gaudet will head a Committee tasked with overseeing all racing and welfare related issues. Johnson will head a Committee in charge of oversight of the relations between industry stakeholders. Horning will manage financial duties related to the internal finance and governance of the Association.
Keefe replaces outgoing President Richard J. Meyer, who served in this capacity since 2012. Meyer replaced Richard Hoffberger, who had held the position since the Organization's founding in 1987.
"I very much appreciate the leadership and service of past Presidents Meyer and Hoffberger," remarked Keefe. "I look forward to our new direction which builds upon a strong foundation of representing horsemen for the past 27 years."
Details

Published on Thursday, 04 September 2014 20:02
15-time winner cross-entered in pair of $100,000 stakes races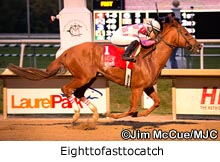 Eighttofasttocatch will make his season debut Saturday afternoon at Laurel Park. Trainer Tim Keefe has cross-entered his star in both the $100,000 Dave's Friend Stakes (race 8) and the $100,000 Japan Racing Association Stakes (race 9), two of four stakes races on Saturday's 10-race card.
The 8-year-old is the fourth choice, at 5-1, in the Dave's Friend, a 6-furlong test on the main track and is a 12-1 morning line shot in the Japan Racing Association at 1 1/16 miles, scheduled to be contested on the turf. Forest Boyce will ride.
"It all really depends on weather," Keefe said. "He has run well on the turf. He has run in the Japan twice, once on the turf (2012) and once on the main track (2011) when he won. The year he finished fifth was a remarkably good race off a layoff and I think he can handle the turf. I cross-entered him in the Dave's Friend because it is a shorter field and definitely on the dirt. I am leaning towards that one unless the Japan comes off the turf then we would go that route. Obviously three-quarters is not his best distance but he broke his maiden at the distance early in his career and he is very sharp right now. He is so smart. He knows he is getting ready to run. He knows my routine. This isn't the perfect scenario because one race is not his preferred distance and the other is not his preferred surface but we gear everything up for Maryland Million day."