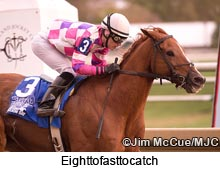 Sylvia E. Heft's Eighttofasttocatch was the popular winner of today's feature on Jim McKay Maryland Million Day, defending his title in the $150,000 Classic in wire to wire fashion at Laurel Park.
The Maryland Million is the one of the most important racing days at Laurel Park with 11 events for runners sired by Maryland-based stallions for combined purses totaling $1 million. The 29th annual event drew a crowd of 18,870 on a picture-perfect Saturday afternoon in central Maryland.
Sent to post as the 3-5 favorite, Eighttofasttocatch carried Forest Boyce to a driving, 4-1/2 length victory in 1:50.54 for the 1-1/8 mile distance. Concealed Identity beat the rest to finish second, while Turbin was third.
"I let him out a notch earlier this year," Boyce said. "There were more horses in here I thought could go with me this year. I wanted to make sure I had a nice big lead on them. They had every opportunity to catch us but I also didn't want them breathing down our necks all the way around."
This was only the second start of the year for the son of Not For Love. Trainer Tim Keefe gave Eighttofasttocatch a prep in the Japan Racing Association Stakes on the opening weekend here, where he led early but tired to finish last.
Today was different as he dictated the pace throughout and was only under mild pressure to win off as his rider pleased. It was the third Classic score in the last four years for 'Catcher.
"Everything looks well planned after the fact but he came in well to this race," Keefe said. "That 24 and change in the first quarter, that was sweet. Forest was just sitting, relaxed over the first half. They couldn't get close to him today."
Details

Published on Monday, 08 September 2014 14:41
The election of trainer Tim Keefe as only the third President in Maryland Thoroughbred Horsemen's Association history, coupled with the election of seven new members to the MTHA's Board of Directors appears to signal a new, more inclusive direction for MTHA leadership. After being elected President, Keefe was excited about the organization's future.
"I think the new Board is very energetic," he said. "Everyone is looking forward to adding their own input and is anxious to get started."
The Sept. 4 meeting - at which Officers were elected - was the first since the Board of Directors was chosen in an election which saw unprecedented voting with over 25 percent of the MTHA membership casting a ballot.
Joining Keefe on the Officers roster is founding member Linda Gaudet and R. Larry Johnson as Vice Presidents, as well as Michael Horning as Treasurer.
The Officer positions aren't ceremonial. Each will oversee most of the functions of the Association. Gaudet will head a Committee tasked with overseeing all racing and welfare related issues. Johnson will head a Committee in charge of oversight of the relations between industry stakeholders.  Horning will manage financial duties related to the internal finance and governance of the Association.
Keefe replaces outgoing President Richard J. Meyer, who served in this capacity since 2012. Meyer replaced Richard Hoffberger, who had held the position since the Organization's founding in 1987.
"I very much appreciate the leadership and service of past Presidents Meyer and Hoffberger," remarked Keefe. "I look forward to our new direction which builds upon a strong foundation of representing horsemen for the past 27 years."